Raising a biracial son, Latina characters, and traveling as a Nigerian
Book Recommendation
I could hardly put down Mira Jacob's graphic memoir, Good Talk, in which she answers questions about race, family and identity from her 6-year-old half-Jewish, half-Indian son. The book is creative, funny, heart wrenching and necessary, as it interrogates issues like multicultural parenting and raising a biracial child at a time our federal government is constantly attacking people of color and immigrants. I got a chance to hear her read recently at the LIC Reading Series and she was really funny and insightful, and did great accent impressions of her relatives.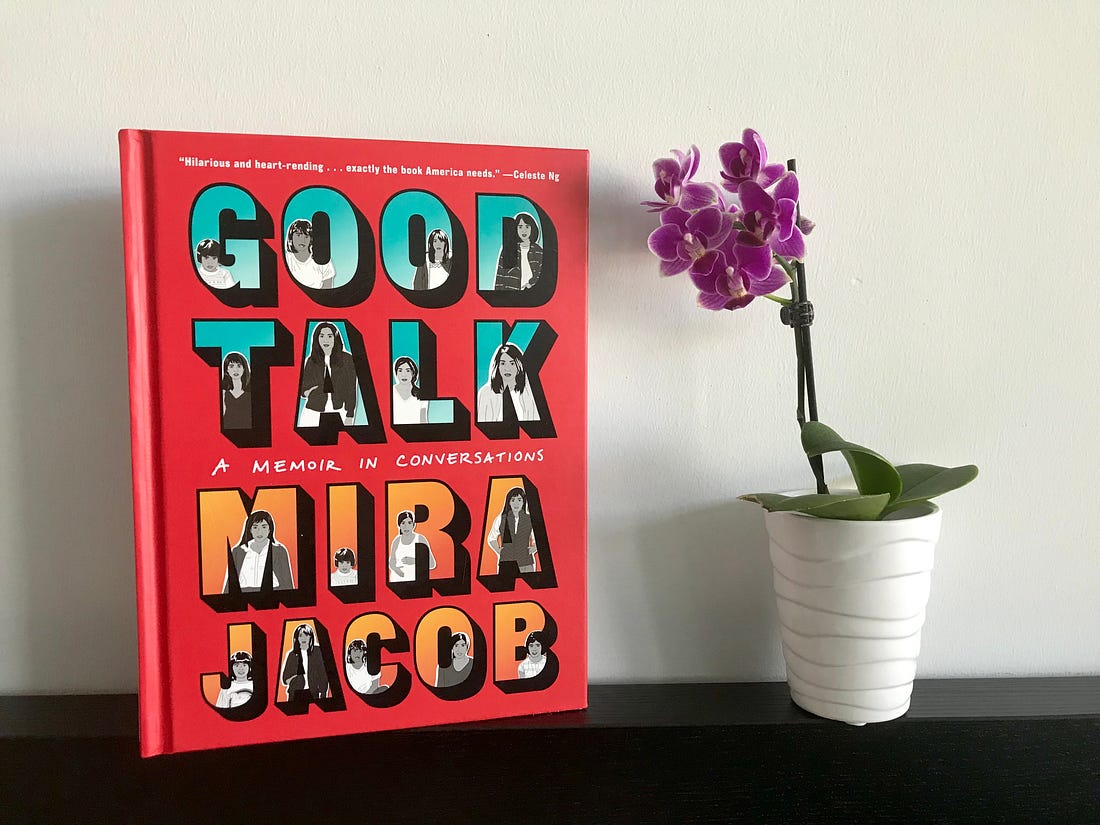 (Glad I could get that little Whole Foods orchid in the picture, since I have of course killed it since then.)
---
Essays
I have included work by Amir Ahmadi Arian, who was born in Iran and now lives in New York, in this newsletter before; here is another interesting piece from him, One Word: Avareh, for the Paris Review.
"Whether you get a visa and sit nervously on a plane bound for a new home, or cross borders on bruised feet, fearing wolves, the gray clouds on the horizon, and the border patrol, it feels like sailing through the air, unmoored, sometimes in frightening free fall."
Stephanie Jimenez's Catapult piece, What I Learned When I Set Out to Write an "Authentic" Latina Character is about the craft of writing, coming to terms with her identity, token portrayals of Latinas, and more.
"As a younger person, as a result of not knowing how to identify my culture in any clear terms, I had tried to perform it instead. After graduating high school and in defiance of the whiteness I had grown up both fearing and emulating, I began to search for a Latina identity, but I still couldn't imagine ethnic identity beyond performance."
You'll need at least 45 minutes for this Longreads piece (also published in Colorado Review), by Tali Perch. It's called Records on Bone and it will be worth your time. I particularly loved the ending—too often, we focus on assimilation, but don't discuss what immigrants lose in the process, and this essay goes into that.
"For forty years I've been lost in the in-between. Groundless. Rarely do I taste the trills and sharp edges of my first language on my tongue. My sloppy declensions and conjugations can never do it justice. My picture of my family's Soviet history — like this language I can't rein in — is a mosaic of half-truths gleaned from nights like these, when too much wine or vodka paired with Mom's intoxicatingly good Jewish cooking loosens the hinges on the door to their past—tiny wrinkles in time when I make myself small, invisible, so I can listen and remember."
Here is another interesting interview with Dina Nayeri, the author of The Ungrateful Refugee, by Lale Arikoglu for Conde Nast Traveler.
"When you're a refugee, you live somewhere worse for a while, and then you have hope for a new home, and then that hope is shattered again and again. The idea of home becomes this romantic place; it becomes this thing that feels like it can never be achievable again. You live in a state of perpetual sadness during that time. You are just longing for home."
This story by Victoria Kim in the Los Angeles Times, South Korea born, East L.A. bred: A Seoul taqueria for a homesick chef, has great reporting and beautiful storytelling. It's a powerful example that stories about immigrants and children of immigrants can be found anywhere—from literary magazines to newspapers' food sections.
"Here, the tatted-up 40-year-old Korean adoptee with a shaved head, thick Chicano accent and streetwise scowl is re-creating the flavors of the closest thing he has to home, a place he is legally barred from returning to since he was deported 17 years ago: East L.A."
I'll wrap this section up with this Catapult essay, A Nigerian's Field Guide to Survival, by Temitope Owolabi, a London-based writer and editor from Nigeria.
"Hope expires, leaves a bad taste in the mouth. It takes the desperate rinsing of yourself and everything you own, fitting what's left into one suitcase to go and start afresh in Canada, in Australia, in Germany, for it to feel like you can exhale again gently, through your mouth. A new starting line. A better fighting chance."
---
Events
Thanks for reading,
Vesna
---
About this newsletter: Writing about immigrant life—the struggles, triumphs and quirks—by immigrants and children of immigrants. Photo in the logo: Miguel Bruna/Unsplash.
About me: I grew up in the former Yugoslavia and now live in New York, where I work as a writer and communications consultant for nonprofits focusing on human rights. I have written about my immigrant experience for Catapult, The New York Times, the Washington Post and the New York Daily News. Find me on twitter, @vesnajaksic, or on my website, www.vesnajaksic.com.